Updates | Imported coronavirus variant case reported in Guangdong
2021-01-04 14:09:09 Newsgd.com Newsgd.com
On January 3rd, Guangdong reported 2 new cases of imported confirmed infection and 8 new asymptomatic cases. Two confirmed case, reported by Guangzhou, came from Tanzania and Zambia. And eight asymptomatic cases, reported by Guangzhou, Shenzhen, Foshan and Qingyuan, came from Nigeria, Tanzania, Iraq, Uganda, Mozambique, and Philippines. All of above cases were found at the port of entry, and were quarantined for observation immediately.

As of midnight yesterday, the province had reported a total of 2053 cases, including 657 imported cases.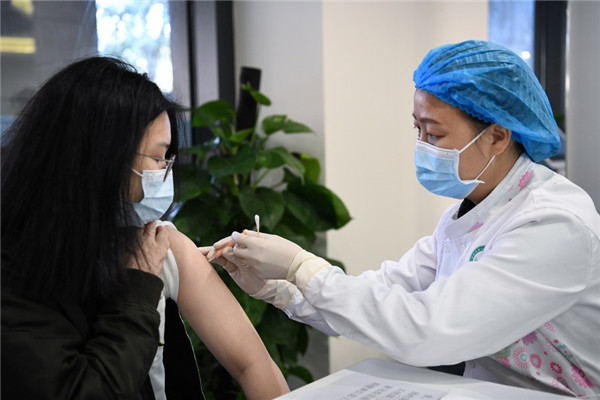 A woman receives an injection of the COVID-19 vaccine at a healthcare center in Shenzhen, south China's Guangdong Province, Dec. 30, 2020. (Xinhua/Liang Xu)
In addition, an imported coronavirus variant case has been detected in Guangdong, the provincial center for disease control and prevention said on January 3rd.
The individual is an 18-year-old Chinese national who studies in Britain. He arrived in Guangzhou from Britain on December 4th and was quarantined immediately. He tested positive for the novel coronavirus and was diagnosed as a confirmed mild COVID-19 case on December 18th.
Gene sequencing analysis on December 27th showed the patient had the coronavirus variant B.1.1.7, which highly resembles the strain recently reported in Britain. The variant was confirmed following a high-throughput sequencing double-check on January 2nd. According to the center, the B.1.1.7 coronavirus variant has a stronger transmission capacity but its symptoms, fatality rate and the risk of severe cases are basically the same. The vaccines that have been developed are also effective against the new strain.
The individual is under further medical observation after being discharged from hospital.
Chinese mainland reports 33 new COVID-19 cases on January 3rd
The Chinese mainland on Sunday reported 33 new COVID-19 cases—13 cases of local transmission and 20 from overseas, the National Health Commission said on Monday. The locally transmitted cases were reported in north and northeast China: six in Liaoning Province, four in Hebei Province, two in Beijing and one in Heilongjiang Province.
Moreover, preliminary investigation has traced the source of the latest local transmissions of COVID-19 in the northeastern Chinese port city of Dalian to imported cold-chain food.
Zhao Lian, deputy director of the Dalian municipal health commission, told a press briefing that most of the recent cases reported in the city were related to five dockworkers who got infected by unloading bulk goods from a Russian ship tainted by the novel coronavirus. Local health authorities have confirmed the infection source of 75 infections and are tracing the source of three new infections.
The total number of confirmed infections in the Hong Kong and Macao special administrative regions and the Taiwan region are as follows:
·Hong Kong: 8,964 (8,011 recoveries, 150 deaths)
·Macao: 46 (46 recoveries)
·Taiwan: 812 (689 recoveries, 7 deaths)
Source | Health Commission of Guangdong Province, National Health Commission, Dalian Municipal Health Commission, Xinhuanet.com