GPHL awarded for contributions to building a moderately well-off society
2020-12-28 13:47:10 GPHL GPHL
On December 26th, 2020 a national-level meeting entitled "Moderately Well-off China Forum" was held in Zhongshan, Guangdong. In the forum GPHL received the 2020 Award for Special Contributions to Building a Moderately Well-off Society in China.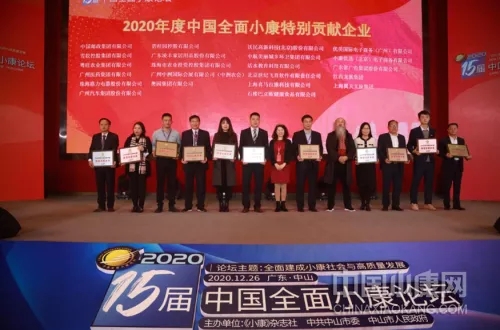 The GPHL representative receives the award.
As a state-owned enterprise, GPHL has actively explored new approaches to alleviate poverty. For instance, the Group offered great support to the development of Roxburgh rose industry in Guizhou province. In 2019 GPHL developed Ciningji series, such as fruit juice and lozenge, which generated annual sales of more than 100 million RMB. The Roxburgh rose plantations in Guizhou has covered an area of over 1,173 kilometres, benefiting 65,000 households and 217,000 people, with 6,138 RMB income growth per household. In industrial production, from 2018 to 2020, the businesses engaged in Roxburgh rose processing saw a growth of more than 50% on a year-over-year basis and their overall sales increased more than 30%, effectively promoting the overall development of local Roxburgh rose industry.
Roxburgh rose products developed by GPHL
GPHL, located in Guangmei Industrial Park and its subsidiary Wanglaoji Health is building the world's largest herbal tea stock solution extraction complex in the industrial park. The Caizhilin Meizhou TCM Industrialization Complex was a comprehensive production and service complex that focuses on modern TCM decoction piece production and technical development. The total investment in these two locations reached nearly 500 million RMB. The industrial park was put into operation in October 2020, creating more than 600 jobs for locals and also boosting local herbal growing industry. In addition, GPHL has helped several poverty-stricken villages in Meizhou. Since May 2016 GPHL has made poverty alleviation efforts in Jingkou, Wanxi and Yuanling villages in Meizhou city of Guangdong. In 2019 GPHL invested more than 10 million RMB, helping lift 358 rural residents in 141 households of three villages out of poverty.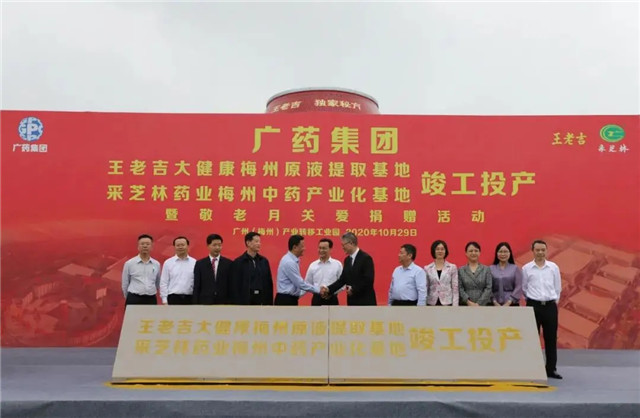 On October 29th, 2020 Wanglaoji and Caizhilin production facilities in Meizhou was completed and put into operation.
Therefore, in 2019 GPHL was granted the titles of Outstanding Contributor for Poverty Alleviation in Guangdong 2016-2018 and Outstanding Group for Poverty Alleviation in Guizhou. GPHL's poverty alleviation project for vitalizing Guizhou's industry was selected as one of the "50 Cases of Best Practices for Targeted Poverty Alleviation" in 2019. The case, titled "Established Brand Empowers New Drink; Guangdong and Guizhou accelerate industrial cooperation", was selected as one of the 2020 national best practices for poverty alleviation through consumption.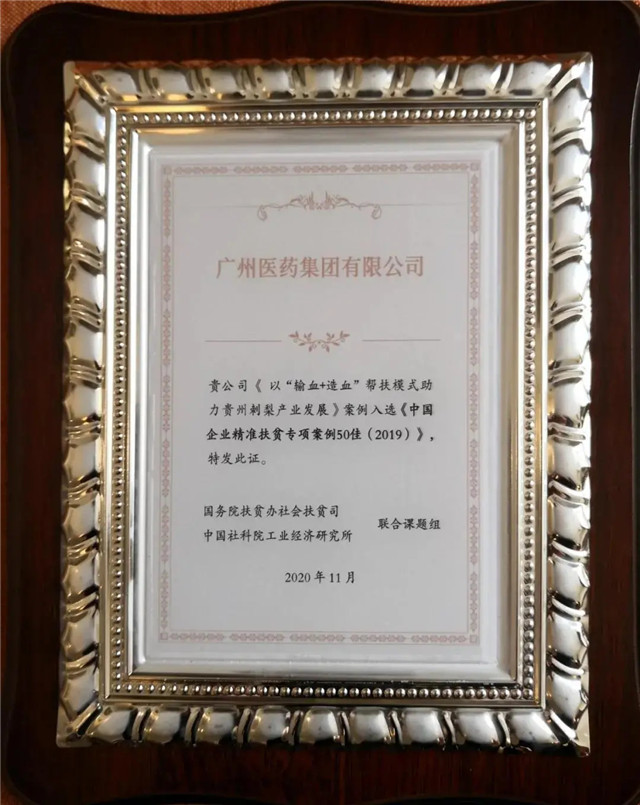 On November 13th, 2020 GPHL's Ciningji was included into the national best practice for targeted alleviating poverty.
Authors: Monica & Michelle
Editors: Olivia & Jerry